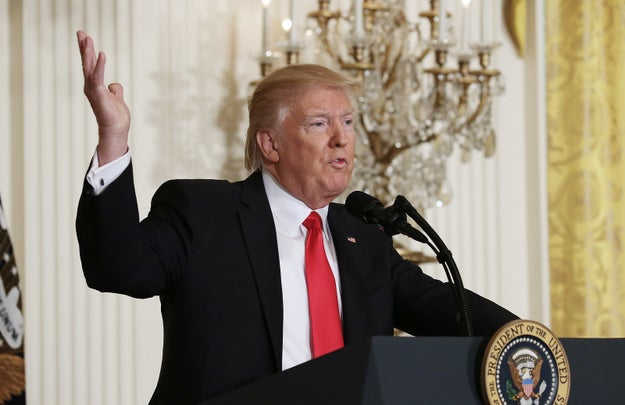 Mario Tama / Getty Images
During a lengthy — and dizzying — news conference Thursday, Donald Trump was asked by reporter April Ryan if he would meet with the Congressional Black Caucus.
Trump responded, "Well, I would. I tell you what, you want to set up the meeting? Do you want to set up the meeting? Are they friends of yours?"
Ryan, a long-time White House correspondent, clarified that she is a reporter, but Trump persisted.
"Let's go, set up a meeting. I would love to meet with the black caucus," Trump said. "I think it's great. The Congressional Black Caucus. I think it's great."
This is the second time this week that Ryan finds herself in a heated exchange with the Trump campaign. Earlier this week, she told the Washington Post that White House aide Omarosa Manigault made "verbal threats" against Ryan and had collected "dossiers" of negative information on journalists.
The letter reads: "During your campaign, you pledged to address a number of issues being faced by African-Americans. Unfortunately, your "New Deal for Black America" represents the same old "Trickle Down" economics assumptions that didn't work for our communities in the 1980's or in the 2000's when these failed experiments were tried before. Furthermore, your insistence on reducing the African-American experience solely to the conditions faced by many in our inner cities is ultimately unproductive. 39 percent of African-Americans live in suburbs compared to 36 percent who live in inner cities. The remaining 25 percent live in small metropolitan areas and rural communities. For more than 45 years, the Congressional Black Caucus (CBC) has worked to improve conditions for AfricanAmericans from all walks of life. Collectively, our Members represent 78 million Americans, 17 million of whom are African-American. Our districts are rural as well as urban. Some of our Members represent majority-minority districts while others do not. If you are serious about addressing issues in the African-American community, you would be wise to tap into the decades of expertise held by Members of our Caucus."
BuzzFeed News reached out to the White House and asked if they wanted to clarify Trump's remarks to Ryan.