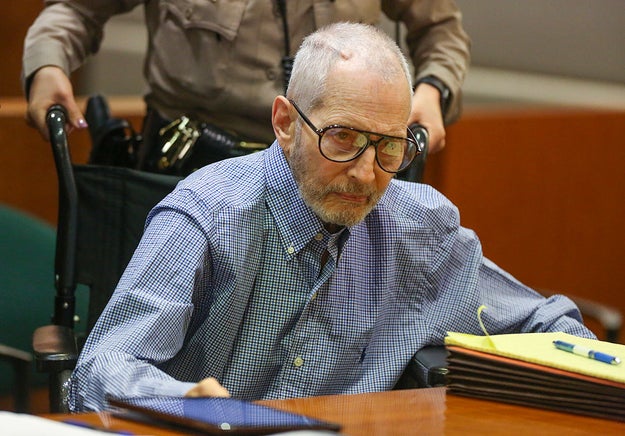 Robert Durst appears in the Los Angeles County Superior Court.
Afp / AFP / Getty Images
Prosecutors in the murder trial of real estate heir Robert Durst unveiled their secret witness to a packed Los Angeles courtroom Wednesday: a longtime friend of the woman the millionaire is accused of killing 17 years ago.
Nathan Chavin, 72, arrived in court flanked by bodyguards to testify ahead of Durst's preliminary hearing in October because prosecutors said there was evidence of a "possible danger" to his life, although they did not elaborate.
Los Angeles County Deputy District Attorney John Lewin told the court he also needed to get Chavin's testimony on record now because of his age. A second witness was questioned Tuesday for similar reasons.
Chavin said he had known Durst for 45 years after meeting him "through a very dear friend of mine, Susan Berman."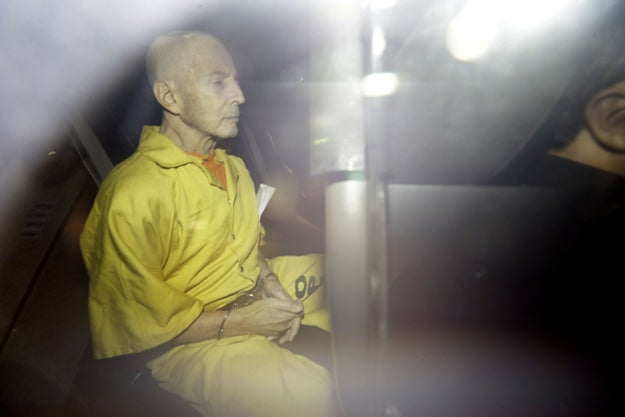 Robert Durst leaves a federal court in 2015.
Gerald Herbert / AP
Durst is accused of shooting Berman once in the back of the head inside her Benedict Canyon home in 2000 because she knew too much about the disappearance of his late wife, Kathleen, in 1982.
Chavin said he would go out often with Berman and Durst in the early 1980s. Durst eventually became a good friend and served as one of his best men at his wedding. Even during Durst's marriage to Kathleen, Chavin testified that the two often went out alone to pick up women for "boy's nights out."
Chavin was a budding copywriter at a firm when Durst gave him the large Durst family real estate account, sparking a rising career. He described Durst's marriage as rocky, and often witnessed the couple arguing.
Chavin also testified that Kathleen had told him she was afraid of Durst and didn't think they would stay together. She also told him she didn't think she could continue to live with Durst, but never mentioned divorce, Chavin testified.
He also described instances of Durst getting into physical altercations with men who he thought had made a pass at his wife.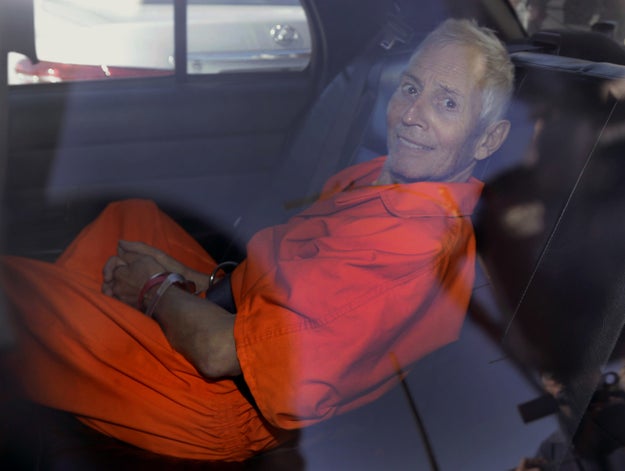 Robert Durst.
Gerald Herbert / AP
However, when Kathleen disappeared Jan. 31, 1982, Chavin said he didn't think Durst had anything to do with it.
Kathleen's disappearance and Berman's death decades later were the subject of the popular HBO documentary series The Jinx, which aired in 2015. It also included a 2003 trial in Texas, in which Durst admitted to fatally shooting his neighbor, Morris Black, chopping the body up, and throwing pieces of it into Galveston Bay. But Durst claimed self-defense and was ultimately acquitted of murder.
Durst has pleaded not guilty to murder in Berman's case, despite appearing to confess to the killing on a hot mic while being interview for The Jinx.
The episode of the recording aired one day after Durst's arrest, and shows filmmaker Andrew Jarecki confronting the real estate heir with evidence that he had killed Berman.
Durst denied the accusation, but after the interview, his live microphone recorded what he thought was a private moment.
"What the hell did I do?" he said. "Killed them all, of course."
In court documents released last year, however, Durst claimed he was on meth "the whole time" and didn't fully know what he was saying.
Chavin is scheduled to continue his testimony Thursday.
LINK: Robert Durst Told Prosecutors He Was High On Meth During "The Jinx" Interviews
LINK: Family Of Robert Durst's First Wife Files $100 Million Lawsuit Over Her Disappearance