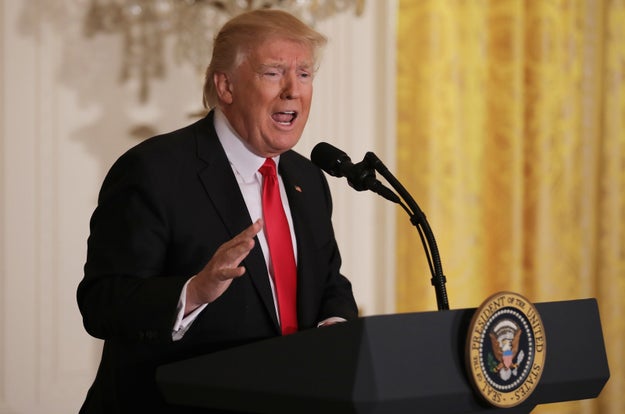 Carlos Barria / Reuters
WASHINGTON — As President Trump announced that "some of the best lawyers" are working on a new executive order to replace his Jan. 27 refugee and travel ban executive order, Justice Department lawyers urged a federal appeals court to put the key challenge to the ban on hold until the new order is issued.
"We're going to put in a new executive order next week sometime," Trump said at his extended news conference on Thursday. "We have some of the best lawyers in the country working on it."
Notably, in his news conference, Trump said that he had wanted a month, or at least a week, delay in when the executive order would have taken effect. Trump said, however, that Homeland Security Secretary John Kelly said no and that the order had to take effect immediately.
In the wake of the Jan. 27 order, there was significant confusion at airports and conflicting interpretations about the order from the federal government agencies responsible for implementing and enforcing it. The order and resulting confusion led to nearly immediate litigation — and quick court orders halting enforcement of some of the most harsh ramifications of the order, like deportations and detentions.
While the Justice Department in a Thursday filing harshly criticized this past week's ruling of the US Court of Appeals for the Ninth Circuit that refused to allow the government to begin enforcing the executive order while the litigation is ongoing, the department nonetheless asked for the appeals court "to hold its consideration of the case until the President issues the new Order."
Despite Trump and the Justice Department's criticism of the Ninth Circuit's ruling — Trump called it a "bad court" and said he had heard information about it being reversed at a high rate — Trump also said Thursday that the new order would comport with the constitutional concerns raised by the Ninth Circuit's ruling.
"We can tailor the order to that decision," he said.
Once the new order is issued, Justice Department lawyers urged on Thursday, the court should vacate the three-judge panel's decision agains the administration. Such a move would eliminate the legal precedent of the appeals court's ruling against the administration.
Here's the key part of the Justice Department's argument: