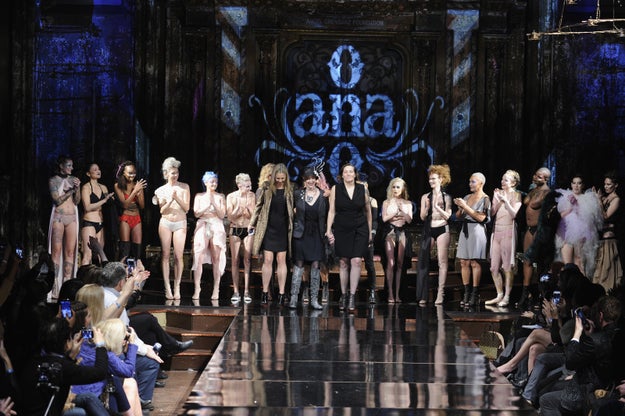 Ana Ono Intimates is the first brand of its kind to offer bras for women who've had surgeries related to breast cancer, and recently made a historic debut in New York Fashion Week.
In an inspiring New York Fashion Week show on Sunday, 16 breast cancer patients and survivors strutted down the catwalk in lingerie and loungewear made specifically for their bodies.
The show featured models living with varying stages of breast cancer diagnoses, surgery, and reconstruction choices, as well as surgical scarring. It was part of the Art Hearts Fashion show, a philanthropic-minded runway collective part of NYFW.
Unlike most fashion week shows which are invitation-only, the show sold select amount of tickets to the public. All proceeds went to #Cancerland, a New York based non-profit that provides support and services to women battling breast cancer. Actress and longtime breast cancer advocate Mira Sorvino hosted the event, which took place at a cathedral in lower Manhattan.
Arun Nevader / Via Getty Images for Art Hearts Fashion
They were modeling for Ana Ono Intimates, a lingerie and loungewear brand made specifically for women who've had surgeries related to breast cancer diagnoses — such as mastectomies, lumpectomies, reconstructions — or live with other conditions that cause pain or discomfort.
Ana Ono offers bras, panties, robes, and other loungewear options to meet the specific needs of women who have been affected by breast cancer.
The unique designs take all shapes and sizes into account, yet still incorporate the fashionable trends and styles seen in the traditional lingerie market.
Arun Nevader / Via Getty
Ana Ono's founder, Dana Donorfree, was inspired to launch the brand after her own battle with breast cancer at age 27.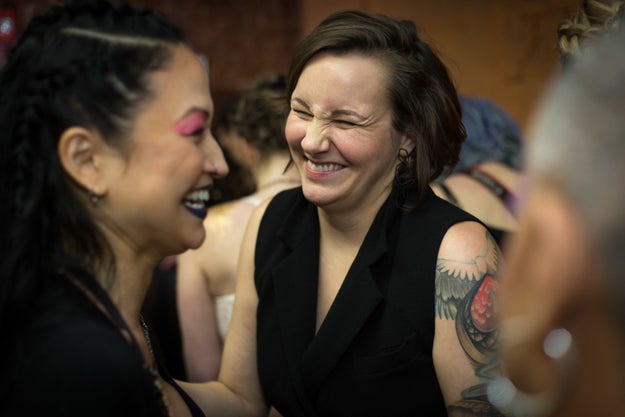 "I had to remove both my breasts, and decided to rebuild them, but I wasn't prepared for how dramatically my body was going to change," Donofree told BuzzFeed Health. Despite having breast reconstruction surgery, Donofree said she could no longer fit into traditional lingerie anymore, especially bras with underwire or molded cups.
"When I left my plastic surgeon, I was told to wear a sports bra or a tank top and they weren't wrong — those are definitely the most comfortable thing to wear — but I didn't feel sexy or want to constantly dress in a way that covered the sports bra straps just to go to work and meetings," Donofree said.
Peter Cooper
---