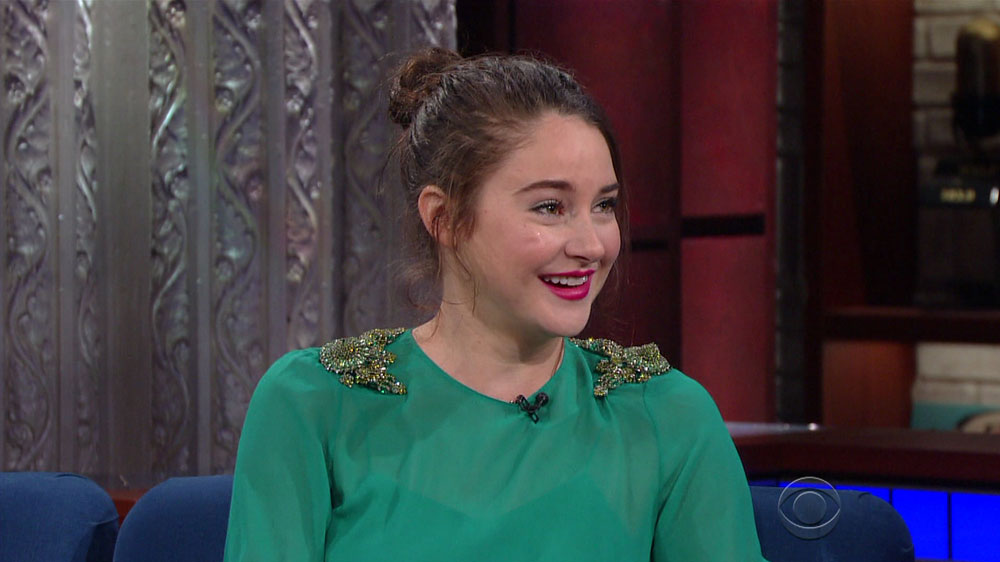 Shailene Woodley was a guest on The Late Show with Stephen Colbert, where she was promoting Big Little Lies, her upcoming miniseries on HBO. It's executive produced by and co-stars Reese Witherspoon and Nicole Kidman and also features Alexander Skarsgard (yes!) and Zoe Kravitz.
During her interview, Stephen brought up the fact that Shailene is a hugger, and she said that she does that as a way to connect with people and be authentic at a time when we're all so hurried and tied to our devices (I'm paraphrasing). She also told the story about how her parents, who are both therapists, used to make her sit and hug it out with her brother whenever they fought. (You can read about that here, she's discussed it before.) Then Stephen showed Shailene's mugshot, after she got arrested for protesting the Dakota Access Pipeline at Standing Rock and she joked that she'd like a do-over. You can watch her say this in the video below at about 3:45 and here's what she said. I really admire that she's continuing to champion this cause.
On her mugshot
I wish I had known that this was going to be as public as it was. I would have made a [tough] face. I feel like I'm just looking at the person like, 'Are you kidding me right now?'

On Standing Rock
The tribe at Standing Rock has been opposing this pipeline since 2014. Last year, starting around September, thousands of people flooded to the reservation to protest this pipeline. We got the Army Corps of Engineers under [Barack] Obama's administration to deny the easement, so they couldn't drill. And as we've all maybe heard, in the last few weeks there has been an executive order from Trump's administration saying that they were going to go ahead with the easement anyways and start drilling…[But] the protest at Standing Rock is continuing. People are still there.

How you can lend your voice
The front lines don't necessarily have to be in North Dakota. The front lines can be wherever you are. You can create a protest in New York City—because protests are about creating awareness and people coming together.

Divesting from banks who invest in DAPL
One of the biggest ways that we're going to defeat this pipeline… is to divest from these big banks that are invested in the pipeline. That's not just about banks that are invested in the pipeline, it's about banks that are invested in the ban on immigration.
[From The Late Show via E! Online]
She's so well spoken and she has clear action items for people to follow, which I love. The more celebrities like Shailene take up causes and use their platforms to educate people, the more we can get the word out. They're still building the website she mentioned, HowToDivest.org, but you can get a list of the banks invested in the DAPL here. The city of Seattle recently made a commitment to divest from Wells Fargo because of their investment in DAPL. Unfortunately the situation is now dire in South Dakota, with construction resuming and activists taking a last stand.
They also showed a clip from Big Little Lies, where Shailene's character told Nicole and Reese's characters that she didn't feel like she fit in. It looks good, I will definitely watch it when it premieres on HBO Sunday. (Add us to your press access list pls HBO!)