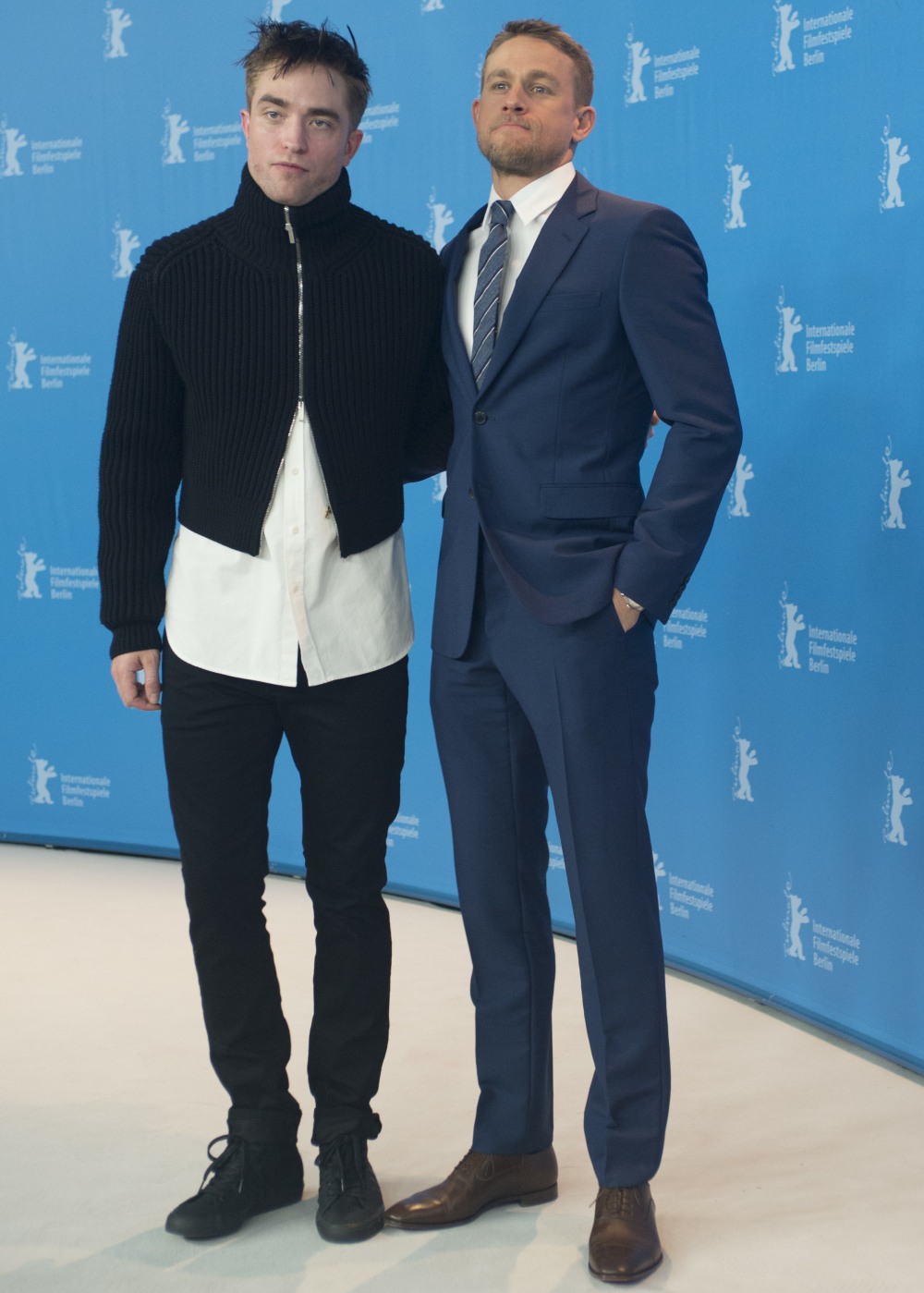 I read an article this weekend about this year's Berlinale (Berlin Film Festival) and how weak-sauce it is. The Berlinale used to be a great showcase for Oscar contenders or the Oscar-hopefuls for the next year. But this year and last year, those kinds of films just haven't been showing up, or the organizers chose not to showcase those films, or something. So it's interesting to me that The Lost City of Z is premiering there. The Lost City of Z took years to go into production, and there were more cast shakeups than typical. Robert Pattinson and Charlie Hunnam basically had to go MIA for eight months to make the film in South America. Rob grew a sadness beard and lost a lot of weight. Charlie was a douche to his girlfriend. And now they're trying to convince people (??) that The Lost City of Z could be an Oscar contender next year.
These are pics from the photocall today at the Berlinale. I don't normally care about men's fashion, but look at what Sparkles is wearing!!!!! HILARIOUS. I mean, I actually think Sparkles is a good model, in that he's tall and thin and has cheekbones for days, but maybe this was not the moment to try out this Dior Homme cropped cardigan?? Sparkles has been the face of Dior Homme for several years now, and while the contract is lucrative, I'm still not sure he's getting the best stuff from the Dior lines. I am glad that Sparkles looks like he's gained some weight back though – his face was looking gaunt for the better part of a year. Now he's back to being pretty. Charlie Hunnam is wearing Prada, and man… he can really wear the sh-t out a suit, can't he? Sienna Miller was there too, wearing a pantsuit that even Hillary Clinton would reject for being an eyesore.
What else? As far as I know, Sparkles and FKA Twigs are still together. Charlie Hunnam is still with his girlfriend Morgana too. And Sienna… who knows? I kind of think she was banging Ben Affleck at one point, but I have no idea.
The Guardian seems to think The Lost City of Z is okay, but I'm waiting to see some other reviews from Berlin. Here's the trailer which debuted a few weeks back: