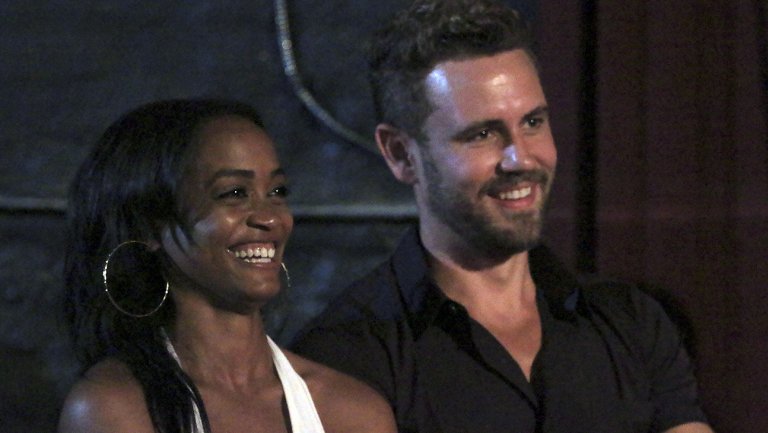 This post is technically a spoiler for The Bachelor, currently airing now with Nick Viall, since lawyer Rachel Lindsay is still a contestant on that show. This story is on the front page of People and at the top of Google entertainment news, so we chose to run it as is. We're sorry if this is the first you're hearing of it and wanted to avoid spoilers for the Bachelor.
Last night on Jimmy Kimmel Live, Rachel Lindsay was announced as the next Bachelorette. She's a 31 year-old attorney from Texas and she'll be the first African-American person to be the lead on The Bachelor or Bachelorette. ABC's dating shows have been extremely white over the nearly 15 years they've been on the air. They've gradually been incorporating diversity into their casting, but it's been within the template of the vapid, formulaic, appearance-focused format of the show. (Kareem Abdul Jabaar recently said it better than I ever could.) So when Lindsay promises that the show won't change much now that she's the lead, I believe her. Here's what Lindsay told People Magazine:
"I'm happy to represent myself as a black woman in front of America and I'm happy for America to rally behind me and see what it's like for me to be on this journey to find love," Lindsay, 31, exclusively tells PEOPLE. "Honestly, it's not going to be that different from any other season of The Bachelorette."

Adding, "I'm obviously nervous and excited to take on this opportunity but I don't feel added pressure being the first black Bachelorette, because to me I'm just a black woman trying to find love. Yes, I'm doing on this huge stage, but again my journey of love isn't any different just because my skin color is."

The history-making pick was announced on Monday night's Jimmy Kimmel Live, just months after the Texas native immediately won the hearts of fans — and instantly connected with The Bachelor's Nick Viall, who gave her season 21's First Impression Rose.

Despite her obvious connection with Viall, Lindsay's journey to win Nick's heart will soon be coming to an end. And with that, her own journey to find love is just about to begin!
I have only watched this show a handful of times. The dialog often seems so stupid to me, most of the people seem dumb as a box of rocks, and I don't understand how anyone can actually fall in love under those circumstances, but I get the escapism aspect of it. Plus it's popular. I used hear people talking about it at the gym and on the playground (the moms of course) all the time, but that was more the case a few years ago. The show needs a shake up. Why not have more diversity AND change it up a little? Like send the contestants to do charity work or visit museums on dates. Those are pretty much ideal dates to me, with woke guys who care, give back and are super smart. Those type of guys are not the contestants on this show though, nor are they the target audience. (No offense if you watch it!)