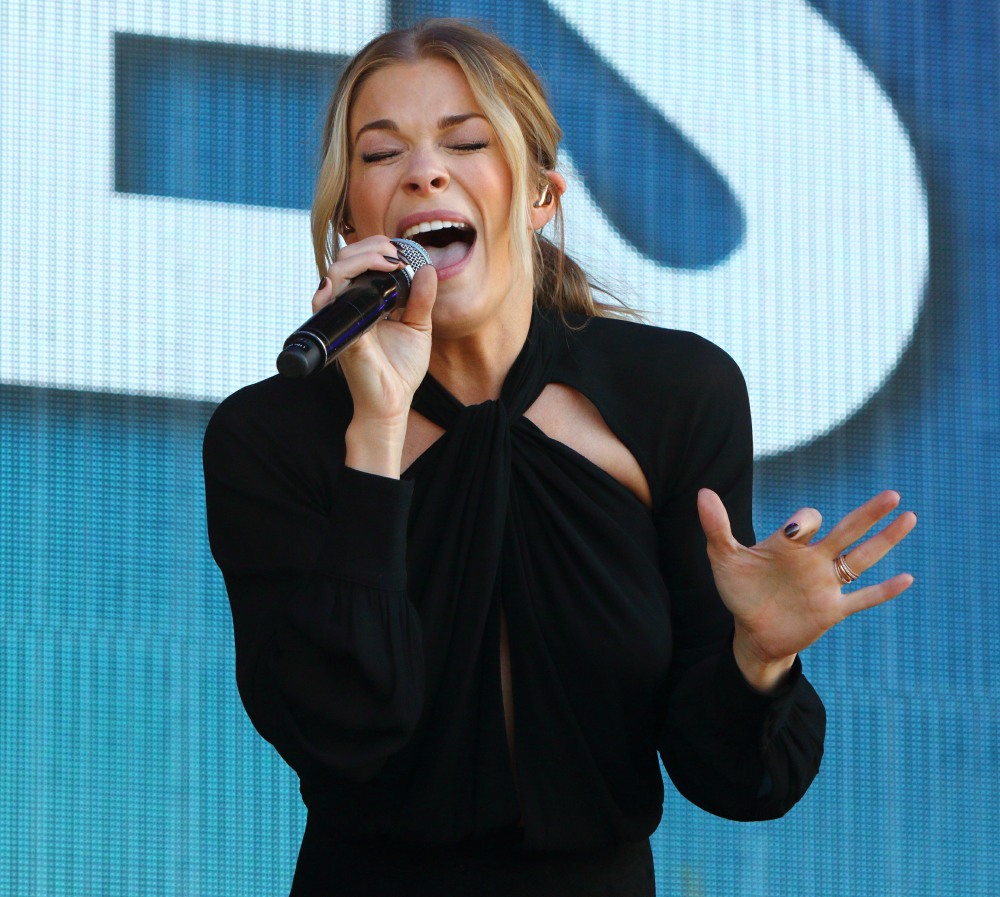 LeAnn Rimes' new album came out a few weeks ago, and it's already bombing hard. The album is called Remnants, as in "we are witnessing the last remnants of LeAnn Rimes' career." Harsh but true. While LeAnn still gets singing gigs and does some very limited "tours" (are three or four stops really considered a "tour"?), her career is really not in a great place. I assume she has some money saved, although keeping Eddie Cibrian in the luxury by which he's grown accustomed costs a pretty penny. I do worry about LeAnn's finances because I generally think they are in shambles. Which is why she keeps recording music. She's been aiming for a musical comeback for years now and nothing has stuck. To promote Remnants, LeAnn chatted with Billboard about how she's totally let go of her ego. Sure, Jan.
The importance of "remnants": "People say, 'Oh, she's falling into pieces. She's having a nervous breakdown. But no one talks about the beauty of falling apart."

What she's let go of: "Well, my ego. That is something I've gratefully let go of. I started in the industry so young. I look back and I don't even know how I am alive at this moment. That is probably the biggest feat in my life: surviving. I was a child star and I still get to make music as an adult. It feels like my best years aren't behind me. The biggest thing that got me here was finding humility — I cry talking about this sh-t. (She tears up.) It's really deep. Once it wasn't about my ego anymore, I became human. To be able to create from that place is incredible.

The cover image of LeAnn in front of a mirror: "When you sit in front of a mirror, there's no hiding. It's interesting: I can't stand to get dressed before a show, to look in the mirror and do my makeup. My mom had me all dolled up from when I was really young. So I've always been uncomfortable with it, with the insecurities that pop up. Especially when you're getting ready to be so vulnerable [onstage], it's like, "Oh, God. I want to hide." But as I get older, I'm more like, "OK, I'm cool looking in a mirror." Being in the public eye and social media if you don't know yourself, you'll be dragged into a very dark place.

The song "Mother," whether she wants to have kids: "I would love to have kids. I'm taking it day by day — I'm still young. The song is about how your parents are supposed to be superheroes, but of course they aren't. There's baggage they bring from their parents, and their parents' parents. When my mom ran away at 18 to marry my dad, her mom burned all her clothes. I've always been fearful of having children, because I didn't want to pass that pain down. I wanted to heal myself before bringing a child into the world. I'm not even close to doing it, really, but I think that's where the pain stops.

LGTBQ rights: Equality is a big thing for me, partially because I've been so picked apart and judged my whole life. I'm very aware of judgment. My uncle, who was gay, died of AIDS when I was 11, and my dad was the only one that showed up at his funeral that stuck with me. For anyone to put a boundary on love is insane to me. Why do people care so much about what someone else is doing? We're talking about human rights. It's 2017 and we're really talking about this? It's ridiculous."
If you take LeAnn at face value, she's not saying anything bad or controversial. But if I'm being honest, I chuckled to myself (and then felt guilty about it) when she teared up when she discussed how humble she is. Like, you can't make this stuff up. She cries when she thinks about how amazingly humble she is. She almost burst into tears when talking about how she had to let go of her ego. Oh, honey.
One thing I'll give her: I sort of believe that she doesn't want to have a baby right now because she just isn't sure if she would project all of her crappy drama onto an innocent baby. Hey, at least she's self-aware enough to acknowledge that.
Photos courtesy of Fame/Flynet and WENN.