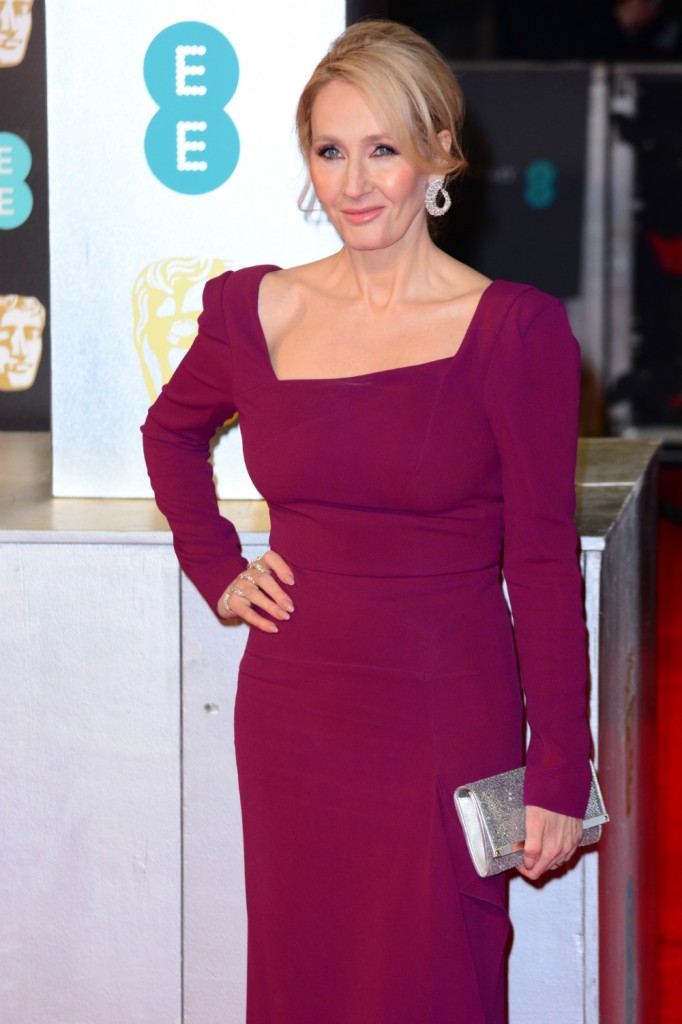 J.K. Rowling had a busy weekend. First she had to tamp down the discussion of how her death would be celebrated. Then she got all gussied up and hung out with Lin-Manuel Miranda at the BAFTAs on Sunday, as well as people like her Fabulous Beaster, Eddie Redmayne, and Emma Stone. It was nice.
Oh yeah, and she eviscerated a very deserving Piers Morgan on Twitter.
It doesn't surprise me that Piers didn't heed my warnings about doing battle with J.K. But what does surprise me, and I know it shouldn't, is that he honestly sounded like he thought he was going to, or worse – had – won.
Let me back up a bit to give you some context of how the slaughter happened. On Real Time, with other guests John Waters, Karine Jean Pierre and Australian comedian Jim Jefferies, host Bill Maher said towards the end of the show, "The people who said, during the campaign, that Hillary Clinton was 'The Lesser of Two Evils'. Could we get the apology right now?" Piers, who claims he wouldn't have voted for Trump but is supportive of everything he's done (???), asked, "Why?" Maher listed some of the highlights from Trump's Reel of Horror, to which Jefferies added 'The Muslim Ban.' Piers proceeded to deny there was a ban, which immediately prompted Jefferies to tell him to "F*ck Off," as pretty much anyone who had heard Trump and his administration call it a "ban" would. So Piers went off on some diatribe about the Left alienating everyone because they swear or something. You can watch the NSFW (language) clip here. The part I am discussing starts about 5:56. Piers went so far as to say Jefferies was, "losing your audience," which Jefferies disproved by asking the audience so he flipped Piers the bird. It was a dramatic moment and slightly cathartic to watch if you don't care for the rhetoric of Trump's defenders or, you know, just think Piers is a sweated pig who wallows in his own sh-t.
J.K. also found it cathartic and mentioned that on Twitter:
Yes, watching Piers Morgan being told to fuck off on live TV is *exactly* as satisfying as I'd always imagined. https://t.co/4FII8sYmIt

— J.K. Rowling (@jk_rowling) February 11, 2017
That's it. That's where it should have stopped. Unless Piers wanted to say, "ha ha, good one, Jo!" he should have kept that vile pie-hole of his SHUT. But he didn't, because he is incapable of silencing his ignorance and because a girl punched him on the school yard. So he came for her in what he thought was a clever retort. J.K. did not find it so clever, and responded. And then Piers responded. It was like watching Rocky get owned by Apollo Creed, only Rocky is a pretentious **shole and instead of remaining standing, he was in a fetal position with both eyes swollen shut spitting, "nuh-uh – you are!"
This is why I've never read a single word of Harry Potter. https://t.co/XUJBMs4KKm

— Piers Morgan (@piersmorgan) February 11, 2017
Because you had a premonition that one day the author would roar with laughter at seeing you called out for your bullshit on live TV? https://t.co/8rkKSqJTnG

— J.K. Rowling (@jk_rowling) February 11, 2017
@jk_rowling same reason he never saw Star Wars – in '77 he knew one day the prequels would star an actor who argued with him on Twitter.

— Wu Ming (@twlldun) February 11, 2017
Everything I said was factual.
If you think screaming 'FUCK OFF!!!' at me changes that, then you're mistaken. https://t.co/0U9fVoTjfc

— Piers Morgan (@piersmorgan) February 11, 2017
.@piersmorgan Would you like a couple of hours to mock up some pictures of refugees carrying explosives to substantiate your position? https://t.co/sFj0kqIajd

— J.K. Rowling (@jk_rowling) February 11, 2017
The superior, dismissive arrogance of rabid Remain/Clinton supporters like @jk_rowling is, of course, precisely why both campaigns lost.

— Piers Morgan (@piersmorgan) February 11, 2017
The fact-free, amoral, bigotry-apologism of celebrity toady Piers Morgan is, of course, why it's so delicious to see him told to fuck off. https://t.co/4XNF4G0nlD

— J.K. Rowling (@jk_rowling) February 11, 2017
I see: if you win, you're right? I seem to have read something rather like that before… hmm… pretty sure it was in German… https://t.co/omRwd6l2RW

— J.K. Rowling (@jk_rowling) February 11, 2017
.@piersmorgan If only you'd read Harry Potter, you'd know the downside of sucking up to the biggest bully in school is getting burned alive.

— J.K. Rowling (@jk_rowling) February 11, 2017
#StillHurts pic.twitter.com/28rUHy2McC

— J.K. Rowling (@jk_rowling) February 11, 2017
And then Piers' son Spencer chimed in – and it was perfect:
Well this is awkward @piersmorgan @jk_rowling pic.twitter.com/OHhkj8TWlM

— Spencer Morgan (@spencermorgan93) February 11, 2017
Piers wrote an op-ed in his defense for the Daily Mail saying what a big meanie J.K. is to defend his position on Trump.
To make matters worse, Piers is trying to tell us he won. No, you don't get to say you walked away the victor from a fight while you are still carrying your ass on the silver plate J.K. served it to you on.
As you can imagine, this had its own set of reactions:
A bookshop is tweeting Harry Potter line by line to Piers Morgan https://t.co/fcdtnOSgI4

— The Independent (@Independent) February 13, 2017
This is Piers Morgan's new column so you don't have to click on the Daily Mail pic.twitter.com/qCqSpgl28t

— TechnicallyRon (@TechnicallyRon) February 13, 2017
Oh well. Piers came for Beyoncé last night. You can take a breath, J.K., The Bee Hive will take this shift.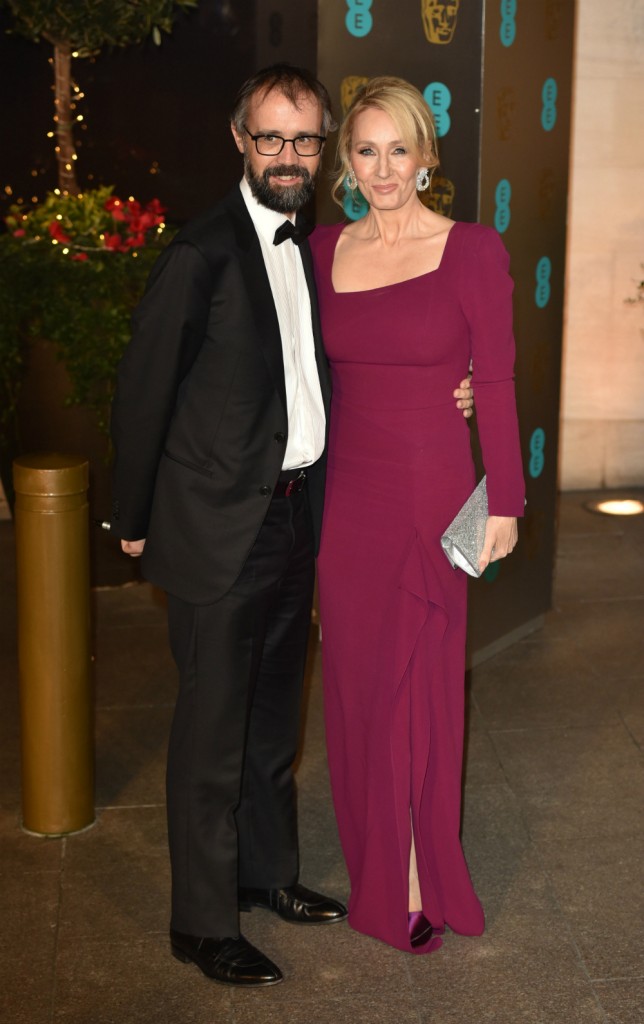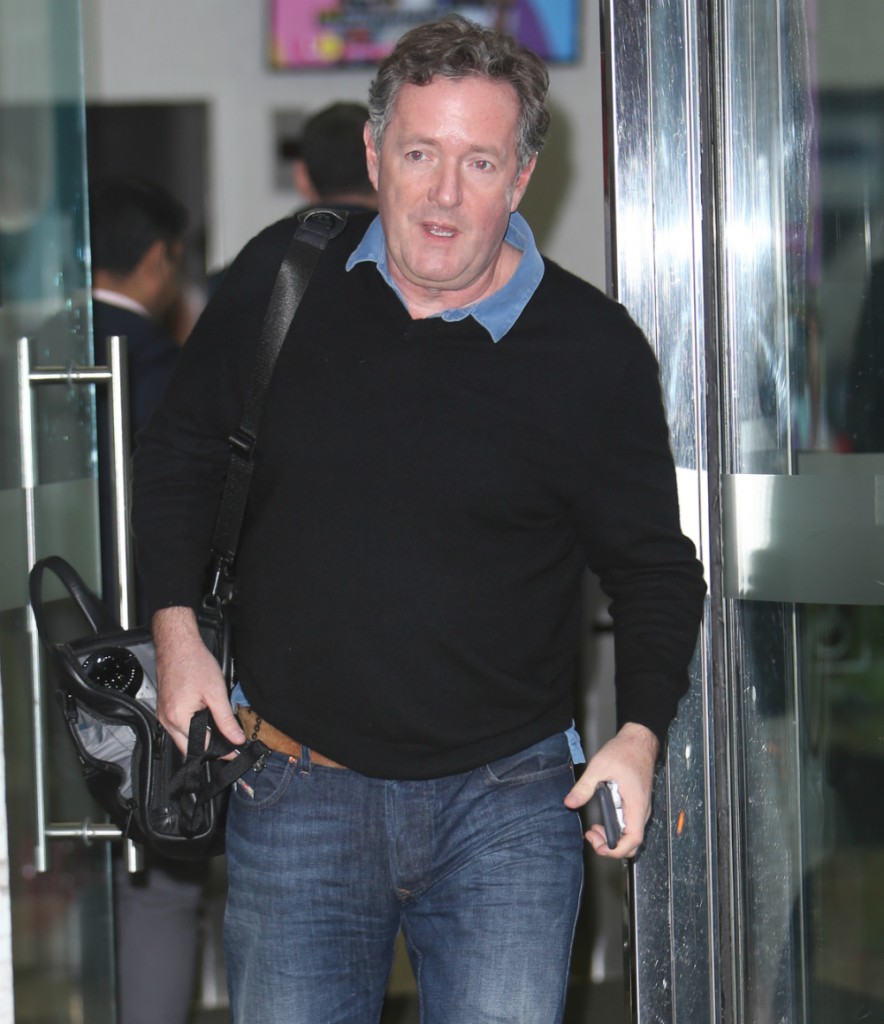 Photo credit: Twitter, Getty Images and WENN Photos