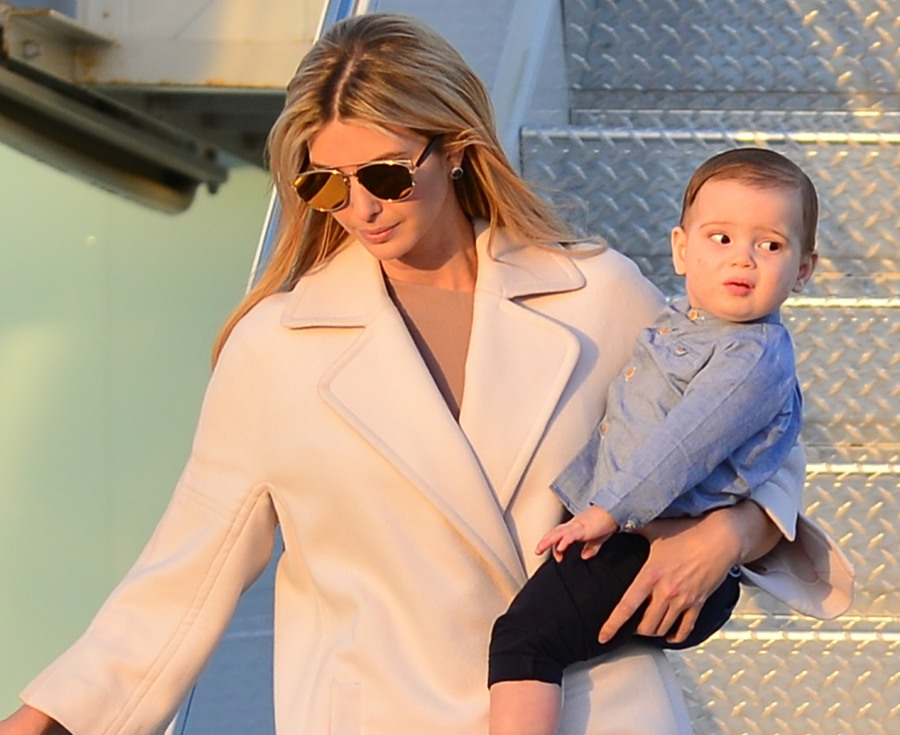 I was reading about how Ivanka Trump's individual businesses are going to hell and my train of thought was "Good, she shouldn't even have her businesses while she's in Washington… but what is she going to do in a few months once her father's impeached?" Like, my mind wandered to a place of concern for Ivanka's grifting if and (hopefully) when the Trumps are dragged out of the White House by armed guards. Still, it's worth discussing. Ivanka, as we know, has her own line of clothing, shoes, accessories, jewelry and more. Her stuff sells in department stores and beyond. But in the past few months, the #GrabYourWallet campaign has ended up doing some good: Ivanka's line is no longer selling, and it's gotten to the point where stores across the board are dumping her completely. Here's the breakdown, provided by NY Mag:
Nordstrom: The company confirmed in early February that it would no longer be stocking new items from the Ivanka Trump line. "We've said all along we make buying decisions based on performance," a spokesperson for Nordstrom told Fortune. "In this case, based on the brand's performance, we've decided not to buy it for this season." In response, the brand issued a statement saying it "believe[s] that the strength of a brand is measured not only by the profits it generates, but the integrity it maintains." Ivanka's dad, meanwhile, was not pleased with the store's decision. "My daughter Ivanka has been treated so unfairly by Nordstrom," he tweeted. "Terrible!"

Neiman Marcus: Following the Nordstrom news, Neiman Marcus confirmed it would no longer sell Ivanka Trump's high-end jewelry line. "Based on productivity we continuously assess whether our brands are carried in stores, on our website, or both," the store said in a statement, and apparently Ivanka's wares didn't make the cut.

Belk: Belk, a chain of department stores with about 300 locations in 16 states, also removed all Ivanka Trump products from its website and released a statement similar to Nordstrom's and Neiman Marcus's: "We continually review our assortment and the performance of the brands we carry. And we make adjustments as part of our normal course of business operations." Belk previously sold about 30 Ivanka Trump pieces.

T.J. Maxx & Marshalls: Neither brand has technically dropped Ivanka's line, but according to a New York Times report, employees at both stores were told to throw away Ivanka Trump signs and to mix all merchandise from the lines into the rest of their clothing racks. "We offer a rapidly changing selection of merchandise for our customers, and brands are featured based on a number of factors," a spokesperson for TJX Companies — the parent company of both stores — told the Times. She declined to say whether instructions to literally throw a brand's signs into the garbage were unusual, but one employee said she "had not received such a request during her several years working there."

Sears & Kmart: Over the weekend, Sears Holdings Corporation — the company that owns both Sears and Kmart — said both chains would cease to sell Trump Home items in their online stores. "As part of the company's initiative to optimize its online product assortment, we constantly refine that assortment to focus on our most profitable items … Amid that streamlining effort, 31 Trump Home items were among the items removed online this week," a spokesperson said. And while both stores still sell Ivanka Trump merchandise (albeit at discounted prices), the announcement could signal a changing relationship with the Trump brand.

Burlington: Burlington is the latest company to remove Ivanka Trump's collection from its website — over the weekend, all of her products mysteriously disappeared, although the retailer has yet to explain why. Maybe we're going out on a limb here, but we're guessing it has something to do with the brand's "performance."
This is good news. While I never prioritized this #GrabYourWallet movement – I think it's a good issue, but there are so many more pressing concerns, right? – I'm glad that so many stores are trying to get out of the normalizing-fascism business.
Also: last week, Kellyanne Conway shilled for Ivanka's line live on Fox News, telling Fox News and its viewers to "go buy Ivanka's stuff." Which is unethical and against so many regulations about public figures and public servants using their position to promote private brands. Kellyanne later apologized, sort of, and there were claims that Conway had been "counseled" about the situation. As it turns out, Ivanka didn't ask for Conway to say anything and Ivanka probably hates Conway a little bit anyway. A new Politico report claims Ivanka "scolded" Conway for "dragging her brand into an ethics mess and told her not to mention it again on TV… This was a continuation of a conversation that Ivanka Trump had with her father weeks earlier about leaving her business out of the politics, a conversation that Conway wasn't aware of." Yeah, I call bulls–t. Ivanka is sinking and all of these petty little leaks are just her way of trying to rearrange the deck chairs on the Titanic.
Photos courtesy of WENN, Fame/Flynet.