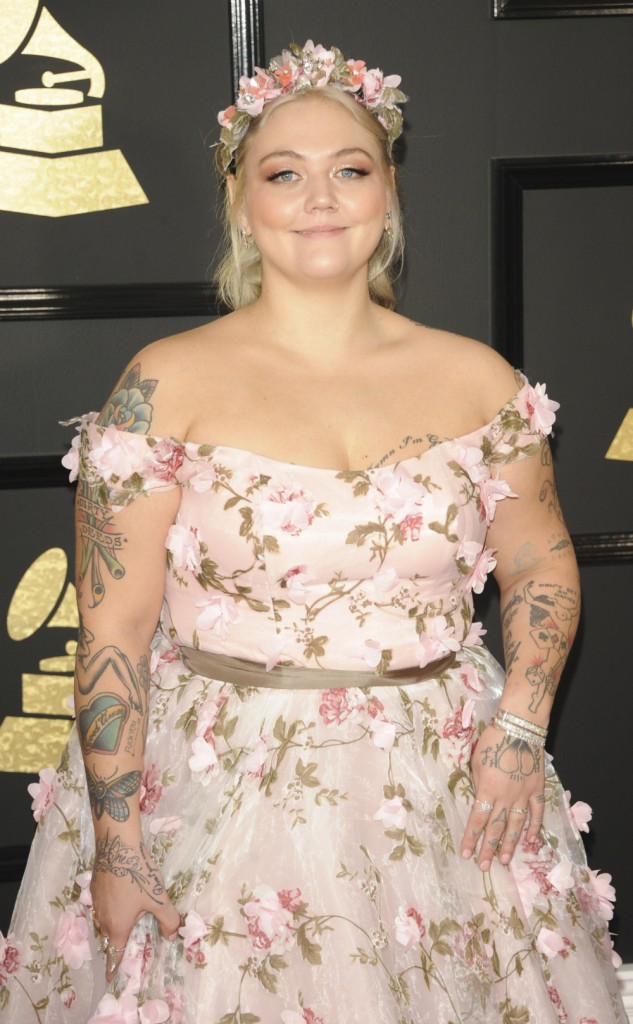 I am not as familiar with singer Elle King as I should be. I love Ex's & Oh's and I also enjoyed Good Girls from the Ghostbusters soundtrack but I don't know the rest of her music. Just listening to the samples on iTunes, I love her vibe. None of that has anything to do with this story other than to say that the more I do know about Elle (who I hope is more politically savvy than her father), the more I think she might be fun to get a beer with. And, from everything I have read, she will generally have a beer on hand for me, as well as other mind-altering treats. Elle accompanied Dierks Bentley (I never tire of saying that name) to the Grammys to perform their duet It's Different for Girls (not one of my favorites). Although her performance was fine, she did seem rather loose on stage and definitely was feeling at home on the red carpet. It turns out she had some help, thanks to one too many pot confections:
This might be only funny to me but I giggled more than I should about Elle's, "something shiny," comment. When I turned on the CBS Red Carpet show, The Mister saw Keltie Knight in that dress and asked why were the people being interviewed by micronauts.
Let's admit two things are true here: 1) Elle didn't "accidentally" do anything and 2) the result was she probably enjoyed this year's Grammys more than anyone else who endured it.
Poor Elle has found herself on many worst dressed lists for the fussy floral pink ballgown she wore to the Grammys. I don't know, I agree with Kaiser, I loved her look. Granted I tend to favor drama in fashion but this dress not only matched Elle's loud personality, I actually thought it was a pretty dress on its own. And the floral headband matched the overall look but oh my stars, when she called herself a Snapchat filter? I can't unsee that now. In typical Elle fashion, she left all her f—ks on the matter in her other handbag:
My plan is to get on every WORST dressed list.

— Elle King (@ElleKingMusic) January 23, 2017
I also loved the dress she wore to the Clive Davis' pre-Grammy party:
The back!
I'm all about trains and capes, though. Like I said: DRAMA!
I don't have much other news about Elle. She is still engaged to her out-of-the-spotlight boyfriend Andrew "Fergie" Ferguson and they keep posting pics of their adorable pup, Sugar, on Instagram (Fergie's is still private). She was a part of the Kristin Wiig, Stevie Nicks, etc. tribute to Tom Petty with MusiCares. And, apparently, she is as big a Golden Girls fan as the rest of us, even dressing up as Sophia to announce her cover of the theme song.
Photo credit: Instagram, Twitter and WENN Photos