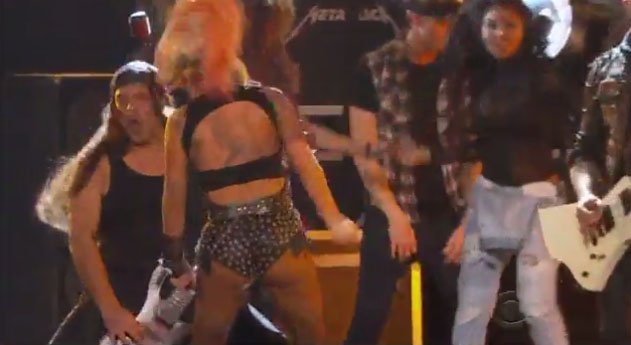 Lady Gaga's been having a bang-up 2017 so far, knocking 'em dead at her Super Bowl halftime show and now rocking the Grammys with legendary rock band Metallica. She sported some new ink to commemorate the event.
On Sunday, before the show, Gaga instagrammed a black and white photo of a full back tattoo with the caption "The Moth & Metallica." The moth image was paying tribute to the Metallica track "Moth Into Flame" from the 2016 record Hardwired…To Self Destruct that she performed with them during the Grammys. She also coined the hashtag #MetalliGa in honor of the unique collaboration.
That tat…fake, so fake. It looks like it was drawn on with a Sharpie – and it's pretty awful. Besides, when did a moth tattoo ever look good on anyone? Gaga showed off the new "ink" on the Grammy red carpet while wearing her somewhat tragic Alex Ulichny get-up, which, along with gratuitous under-boob, also had an open back. This isn't Gaga's first Grammy-inspired tattoo. You may recall that for last year's David Bowie tribute, she got a (permanent) tattoo of the singer in his iconic look from the cover of the 1973 album Aladdin Sane. Even though her side looks like a tattoo artist's doodle pad, I do like the Bowie tat much better.
Gaga, as always, went all out for the show, donning a Metallica t-shirt and posing with the band before they took the stage. She posted the photo to Instagram with the caption, "Gonna listen to Metallica all day and party with my friends and then play with them at the Grammy's."
She was a good study, as I thought the performance was pretty awesome. Full confession: I just watched the clip of this performance and the clip of Adele's George Michael tribute, because I don't have cable. I, apparently, didn't miss much. Gaga's vocals actually helped the song, as Metallica hasn't put out anything good for a few albums (IMHO, of course). She was great, the music was great, the performance rocked, except for James Hetfield's microphone issues. The background dancers were distractingly awful though – but not so distracting that I missed seeing shots of Gaga's back where there was no moth tattoo to be seen. Case closed.
RT
FULL PERFORMANCE!
Aquí la presentación completa de Metallica y Lady Gaga en los #GRAMMYs pic.twitter.com/Ttg8FsXHaD

— Fest Jumpers (@FestJumpers) February 13, 2017
James was obviously not happy about the technical mishaps (and the fact that presenter Laverne Cox failed to introduce them with Lady Gaga), angrily throwing his guitar after the song was over. TMZ later reported that a most likely now-unemployed stagehand accidentally unplugged James' microphone before the band took the stage. He might have also been miffed because his band's song "Hardwired" lost the Grammy for Best Rock Song to David Bowie's "Blackstar" (deservedly though, if you ask me.)
A pissed off James Hetfield tosses his guitar 😡😡😡😡😡 #Metallica #GRAMMYs pic.twitter.com/6BXzFvnFZR

— Troy Hughes™ (@TommySledge) February 13, 2017
Gaga modeled a more subdued look for the Grammy after party at Hollywood club The Peppermint Room, where she boogied with John Travolta (how very random) while her new beau, agent Christian Carino, looked on. Party guests told People that Gaga and Christian were low-key at the party, avoiding being photographed together but were spotted "cuddling at the bar and showing off some PDA."
I'm glad Gaga is having a good year and that she may have rebounded nicely in the romance department. Even though I think the under-boob/fake tat look was a "miss" (they can't all be winners), I still love that Lady Gaga likes to change things up constantly and I personally can't wait to see what she does next. Sadly, I'm going to miss her in concert because her North American tour dates have already sold out. Damn.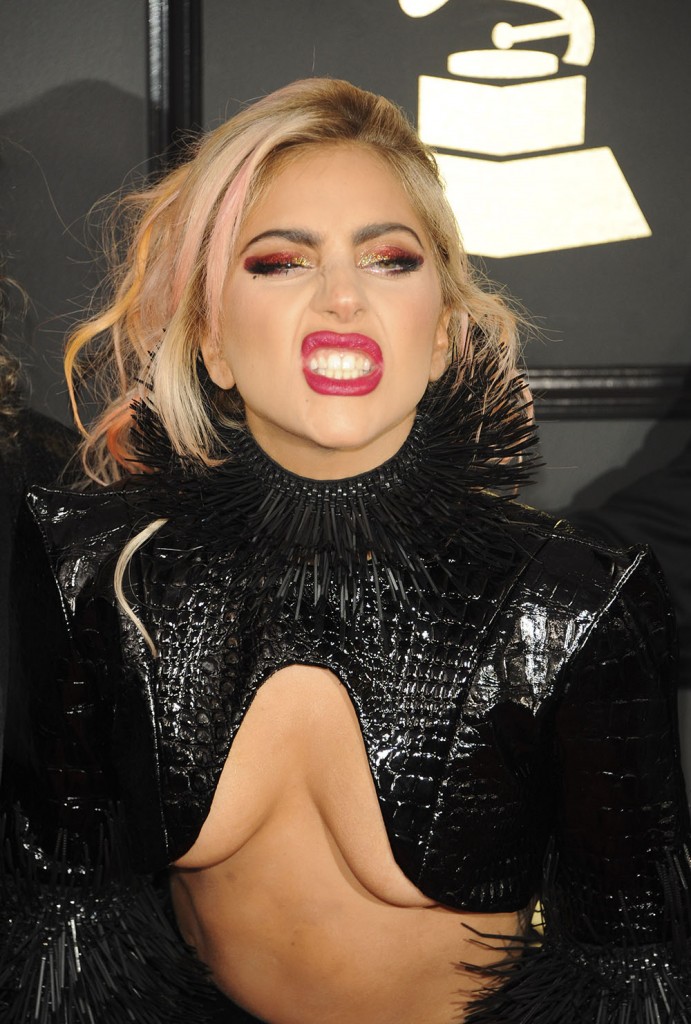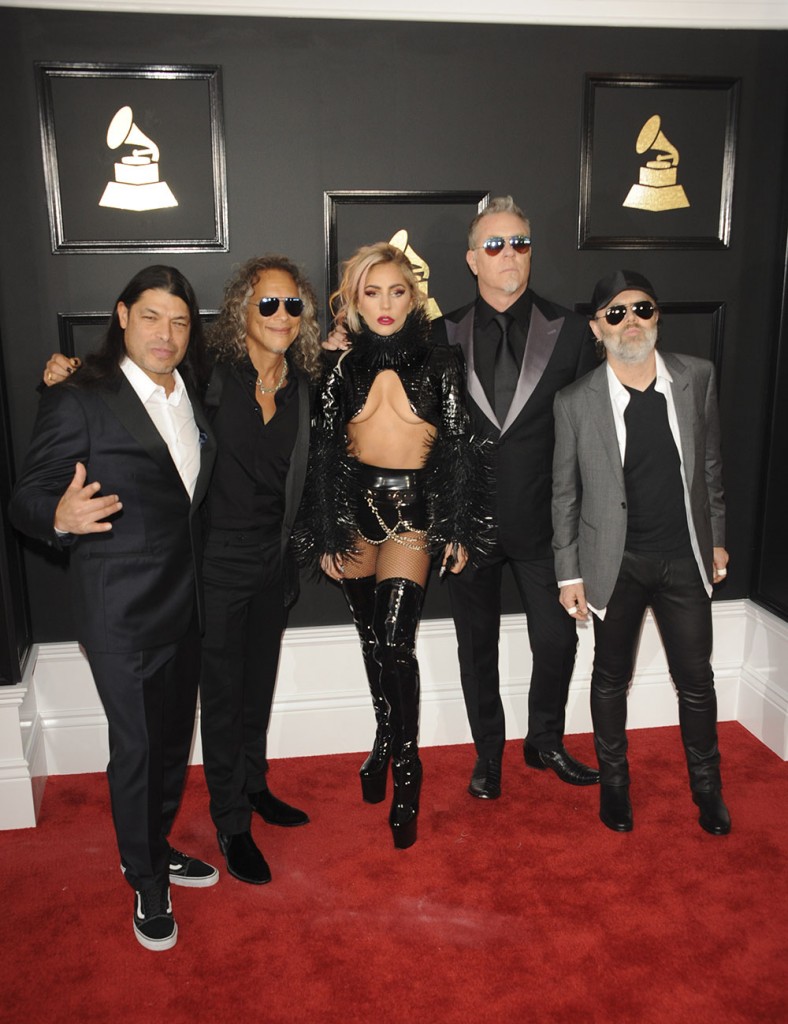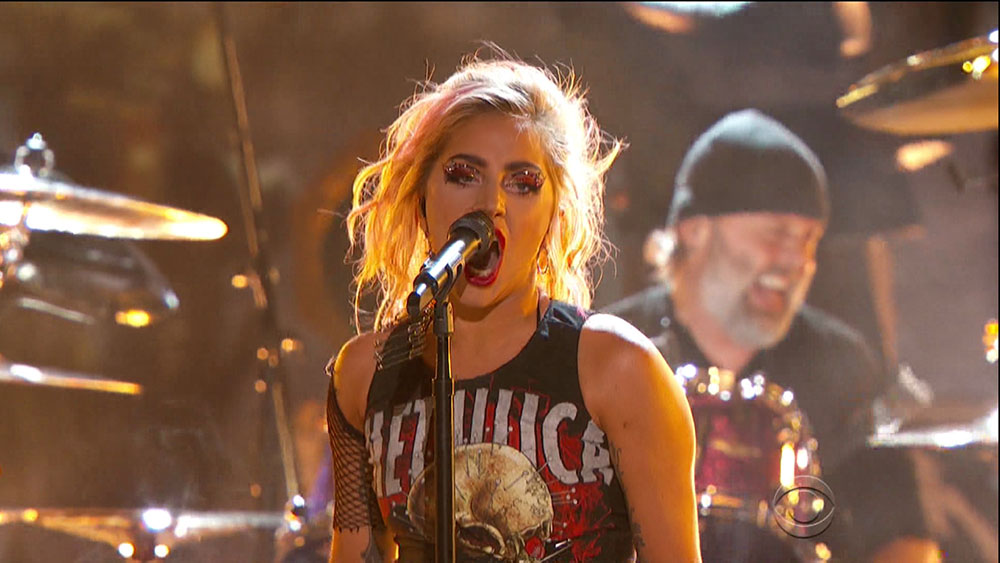 Photo credit: WENN.com, Getty Images