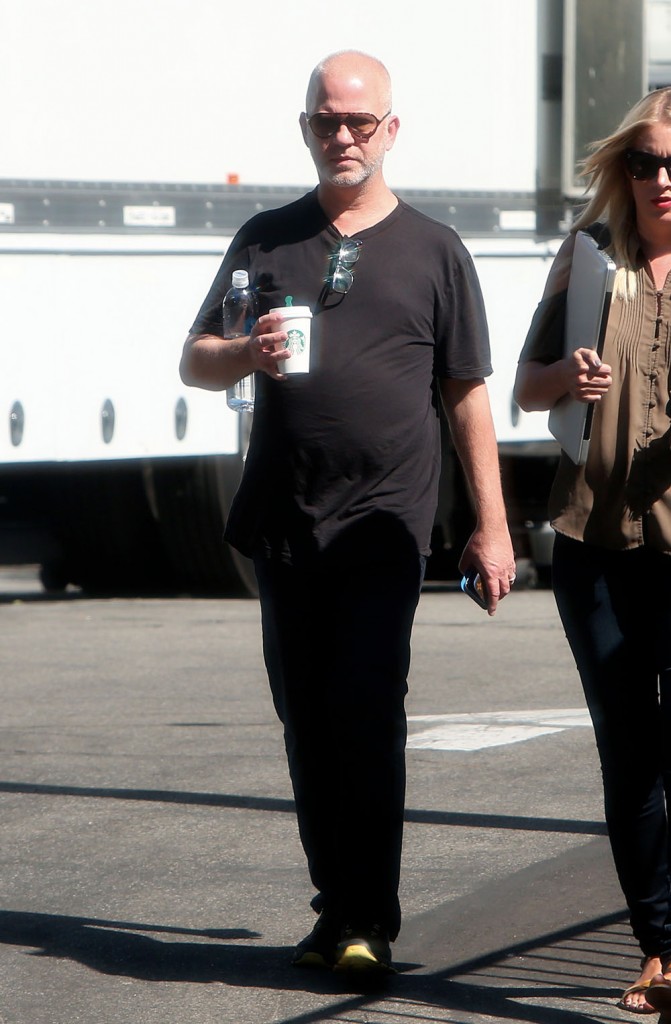 Ryan Murphy, a/k/a the busiest show runner in Hollywood, is making the promotional rounds in advance of the premiere of his latest anthology series Feud, which premieres on March 5th on FX. During an interview with E! News earlier this week, the conversation drifted to Ryan's future plans for his American Horror Story franchise. When asked about the subject of the show's upcoming seventh season, Ryan said, "It's very scary and very fun and very…topical. Anybody who voted in the last election will very much enjoy what it's about."
Ryan gave a more direct answer on Wednesday's episode of Bravo's Watch What Happens Live, telling Andy Cohen, "I don't have a title, but the season that we begin shooting in June is going to be about the election that we just went through. I think that will be interesting for a lot of people." And, when asked if there would be "a Trump" on the show, Ryan said, "Maybe." Oooh, that's really scary.
The theme of the new, "modern-day" season of AHS was teased at last month's Television Critics Association winter press tour, where FX Network CEO John Landgraf said that although the topic for the season was "shrouded in super secrecy," he asserted that "Ryan has yet another really innovative idea for how to do something fresh and different with the franchise that audiences haven't seen before." Sarah Paulson and Evan Peters are among the AHS alum attached to the next season, and I'd actually like to see the dream cast Pajiba came up with come to fruition.
Sarah is also in talks to play Linda Tripp on the fourth season of Ryan's American Crime Story taking on the Clinton/Lewinsky scandal. Ryan told Andy, "I'm very interested, and have talked to my good bartender friend Sarah Paulson about playing Linda Tripp. So, we'll see if she would agree to do that, because I always think of Sarah for everything." As for who he'd like to cast as Monica Lewinsky, he told Andy he was looking to cast an unknown. Sorry, Lea Michele.
All of this sounds intriguing, but I can't wait for Feud, which debuts on March 5. Side note: Ryan Murphy, like myself, is a huge Bette Davis fan, and had the most #coolstorybro tale of meeting her. While promoting the new anthology series, Ryan told E! that he's already dealt with his share of battling divas on the set of Glee, in co-stars Lea Michele and Naya Rivera. He did say, however, that their squabbles were nothing compared to the animosity between Bette Davis and Joan Crawford, sharing:
I feel like in the case of that show, that show was just a s—storm of difficulty, largely because, what do you do when you're 18 years old or 19 years old and you wake upon day and you're world famous? II think a lot of that was informed by their youth and being involved in a phenomenon. And I know for a fact that they admired each other's work, 'cause I directed them both in scenes. I don't think I would take on Lea and Naya. I think for a feud to work on this show, it has to have decades of pain behind it. But if they're still feuding at 40, I might consider it. I'll call them up in a couple years.
By the way, the girls of Glee weren't the only ones going toe-to-toe with each other. According to Ryan, "There were many boys on our show that didn't get along. And you never hear about that. You never hear about that in our culture." Could we possibly see Feud: The Boys of Glee in our future?
Speaking of Glee, Darren Criss will once again be working with Ryan on the third season of American Crime Story, dealing with the murder of designer Gianni Versace (played by the handsome Edgar Ramirez). Darren plays Andrew Cunanan, who shot Versace in front of his Miami mansion in 1997. (If we could give out prizes, CB poster Lucy would get one. Good call! I'm giving you a virtual hug.)
But I digress…back to the American Horror Story news. Is it too soon to draw any entertainment value out of what happened during the latest election cycle? I guess if anyone can bring out the gallows humor from the situations Ryan Murphy. We can only hope, right?
Photo credit: Getty Images, WENN.com